Trading Bitcoin For Other Cryptocurrencies And Vice Versa
There are many cryptocurrency trading sites like bittrex,bitpanda,cex,coinmama,yobit etc.But the one I will recommend is poloniex.com and shapeshift.io .They have lower rates and their interface is beginner friendly.
To start trading cryptocurencies you need to first have bitcoin.You can buy bitcoin from our local exchangers(cofredgh.com,ebitcoinics.com,payplux.com,ecurrency4u.com etc) using mobile money or you can buy from foreign sites(coinbase.com,bitpanda.com,indacoin.com,cex etc) using your credit card.
After you have gotten your bitcoin follow the tutorial below to start trading:
How to Buy and Sell Crytocurrencies at Poloniex
1.Go to
https://poloniex.com
and click create account
2.Fill in your details,complete the captcha and click create account.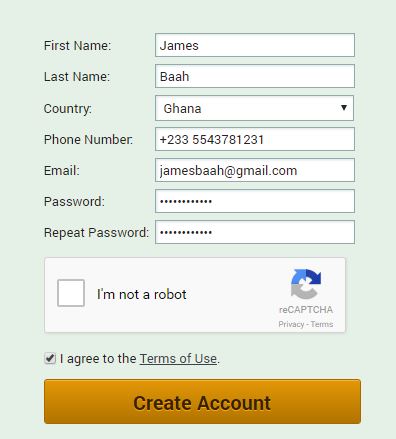 3.An activation link will be sent to your email to activate youe account.Go to your email and open that link to activate your Poloniex account.
4.Now login with the details you use in registering.
5.After you have logged in you'll see a chart and a long list of crytocurrencies to trade which looks intimidating.Don't worry it's easy.We'll explain everything in the course of the tutorial.
6.Now it's time to deposit your bitcoin or any other cryptocurrency to start trading.To do that select balances at the top panel and click deposits and withdrawals.
7.Now you'll see a long list of cryptocurrencies available.And you'll notice a withdraw and deposit button beside each of them.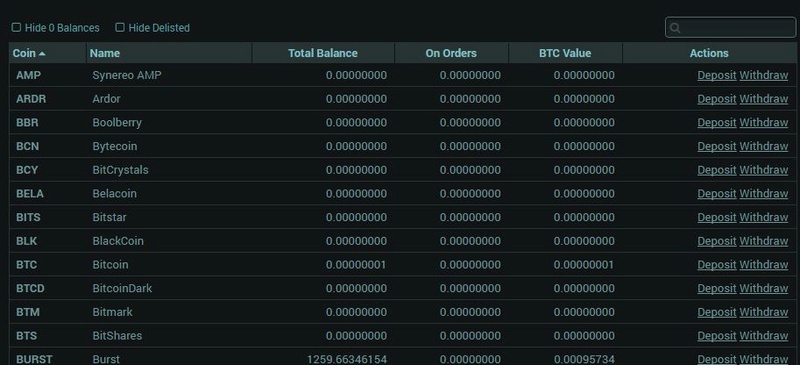 8.To deposit bitcoin,click deposit deside bitcoin(btc) or click deposit beside and other cryptocurrency you wish to deposit.
9.When you click deposit the bitcoin address attached to your poloniex account will be displayed.

10.Now go to your bitcoin wallet(coinbase,blockchain,xapo etc) and transfer the amount you wish you trade to that address.Or simply use the app of the wallet you use on your phone to scan the QR code for an easy transaction.
It takes 3 confirmations on the blockchain network for your deposit to appear.
11.After your deposit has appeared go back to the exchange page.
12.On the right hand side you'll see a window named markets.This window contains all the available currencies which can be traded at poloniex.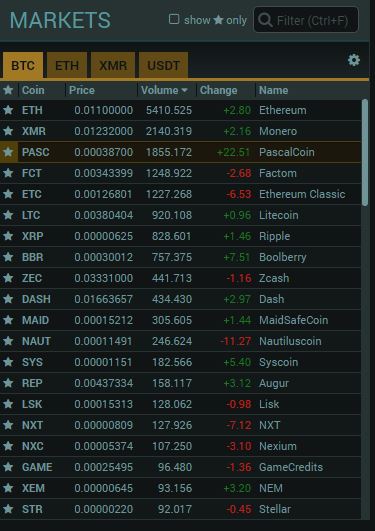 13.For example if I want to buy or sell litecoin,dash,zcash or any other cryptocurrency.All I have to do is click on in the market window.I'll be using zcash as an example in this tutorial.
14.After you click it scroll down to sell orders window below the chart.You'll see a buy and sell window.

15.To buy Zcash enter the amount of zcash and you'll see the equivalent in bitcoin that that you'll need to buy it.Or enter the amount of bitcoin and the equivalance in zcash will be displayed.
After you have correctly entered the amount click buy.You'll received the currency you bought immediately into your poloniex wallet.
16.Selling too follows the same procedure.Enter the amount you want to sell in the sell zcash window.After that click sell and the bitcoin equivalance of the amount you sold will be credited to your poloniex wallet.
17.Now after you are done trading you can decide to transfer the cryptocurrencies you have bought to your personal wallet.To do that that just go back to the withdrawals and deposit page and click withdraw and enter the address of the wallet you want to transfer your crypto to.
How to exchange cryptocurrencies on shapeshift.io .No registration required
You can use shapeshift to exchange currencies when you are in a hurry.It does not require any registration and it's very straight forward.
1.Head over to shapeshift.io.
2.On the right site you'll see the exchange window.
3.Click the cryptocurrency you wish to sell under deposit and click the cryptocurrency you wish to receive under receive.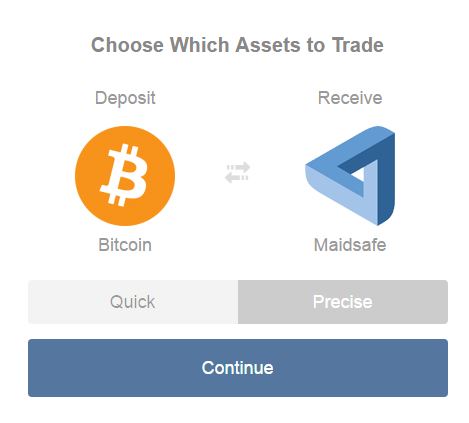 4.You can click quick or precise depending on how easy or precise you want to trade.After that click continue.
5.Now enter the amount of bitcoin you want to exchange.The equivalent you'll get fom the other currency you want to trade with will be automatically displayed.
6.Now enter the address of the wallet you want to receive the coin you are trading and enter the bitcoin address of the wallet you are using to send the bitcoin.
7.After everything is set click start transaction.
8.Now deposit the bitcoin to the address displayed.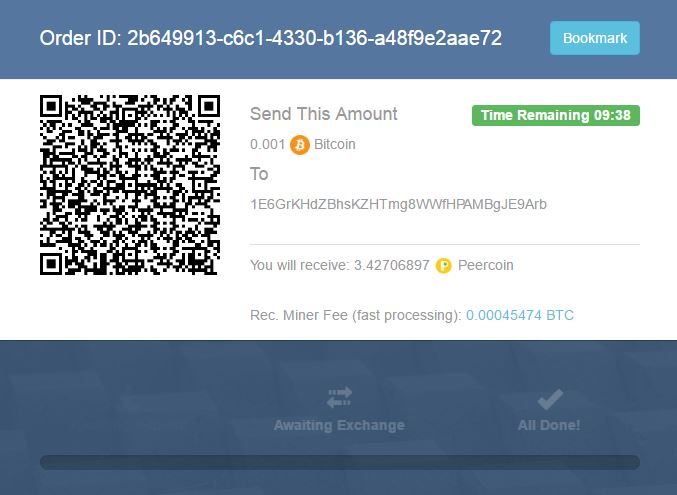 9.After it has passed 1-3 confirmation the exchange will start.After that the coins you bought will be sent to the wallet address you provided.